This is from a crafty knitter who used natural ingredients to dye her yarn. So cool.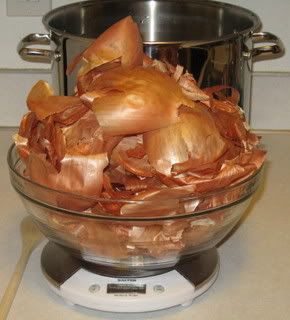 The other day I finished up yet another batch of hand-dyed yarn. This time I used onion skins. I had been collecting them forever in order to get enough to dye some yarn with! Two ounces of onion skins is an insane amount as you can tell from the picture. I only used yellow onion skins, no red onions. Thankfully my husband and I cook a lot so there is always an abundance of onions in our house. Although, that still was a lot of onions! I would highly recommend recruiting friends and family in the onion skin saving endeavor if you decide to try this one yourself. Or you could ask the produce manager of your local grocer if you can have their discards. I never got around to doing that.
For the 2 ounces of onion skins I ended up using 3 ½ ounces (the whole skein) of Patons Classic wool yarn. Because I was feeling lazy and just wanted to jump right into dyeing I didn't bother with mordanting the yarn. If I had I would have used alum which is my mordant of choice. I soaked the yarn overnight in cool water to thoroughly saturate it.
To prepare the onion skins I placed them in my dye pot and filled it with tap water. I then slowly brought the water to a simmer and held it there for one hour. After that I contemplated straining the dye bath but then decided to let the onion skins sit in it over night and cool.
For day two I was going to strain out the onion skins before adding the yarn to the now cooled dye bath but at the last minute decided to leave them in and see what would happen. I did take a picture of the cooled dye bath and it shows what a deep golden color I ended up with.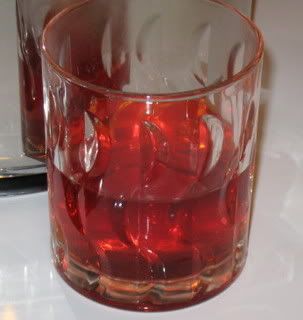 To the cooled dye I added my soaked yarn and slowly brought the bath up to a simmer. I keep it at a simmer for one hour. Once it was done simmering I let the yarn cool completely in the bath before I removed it and washed it out.
After I removed the yarn I noted that there was still a significant amount of color left in the dye bath so I decided for the heck of it to see if I could get a little bit more out of it. So, I prepared 1 ½ ounces of wool yarn by soaking it for several hours. I used less yarn this time only because I was unsure of the outcome and didn't want to waste too much yarn if I didn't like the results. No mordant again. I then added this yarn to the pot and simmered for once again another hour.
So to conclude, the first batch of yarn came out a very deep rusty gold color, sort of like a burnt orange and the second batch was very noticeably lighter. It is more of a light red orange. I was actually very surprised by these two batches. I was not expecting such orange colors. But that is the fun part of using natural dyes! You never really know what is going to come out of the dye pot until you are done!